China in Transition
Dongguan Establishes "Little Japan" to Woo Japanese Investors

Chi Hung KWAN
Consulting Fellow, RIETI
We are seeing a boom in Japanese private sector investment in China, buoyed by the nation's entry into the World Trade Organization. Such investment is increasingly concentrated in the Yangtze River delta, in cities such as Shanghai. Faced with this challenge, the Pearl River delta in southern China, which has long stood at the forefront of attracting foreign investment, is trying to stage a comeback by upgrading its infrastructure and wooing investors. Especially noteworthy are the development projects being organized at the initiative of local governments. A good example is the industrial park tailor-made for Japanese companies currently under construction in the town of Dong Keng in the city of Dongguan.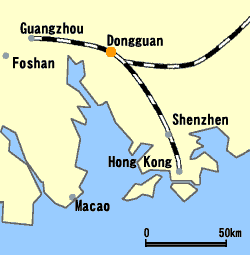 The city of Dongguan is located right between Guangzhou and Hong Kong, occupying a pivotal position in the industrial region of the Pearl River delta. Two international airports (Shenzhen and Guangzhou) are within an hour's access from the city, while three ports serving international routes (Huang Pu in Guangzhou, Yan Tian in Shenzhen and Kwai Chung in Hong Kong) are no more than 90 minutes away. The city is also served by the Beijing-Kowloon Railway, which runs the length of China, linking Beijing with Hong Kong. Dongguan's development began with the investments in labor-intensive industries in the 1980s, and its industrial base has widened rapidly with the entry of Taiwan-based firms in the 1990s. Almost all parts necessary for the production of personal computers can be procured within the city, and even in global terms, Dongguan has become a huge center of production for information technology-related products. Supported by some 15,000 foreign firms, the value of Dongguan's exports now ranks third in China, behind Shenzhen and Shanghai.
Dong Keng is a small town with a population of 108,000 (28,000 according to family registers and an additional 80,000 who come from other areas) located in central Dongguan. The town government is active in wooing foreign capital, and its policy is to provide companies with "services," rather than subjecting them to "administrative guidance" and regulations. This flexibility and attentiveness has won high marks among incoming firms. Although some 230 foreign firms, including seven Japanese companies, have already invested here, another four large-scale industrial parks are currently on the drawing board.
One of these, jointly undertaken by the town government and Hong Kong-based Plainvim International Ltd., will be China's first industrial park exclusively for Japanese firms. The plan envisions an industrial zone, a residential zone, a commercial zone and natural environment protection zone all within a huge 1 million-square meter plot of land. It is expected host some 80 small and medium-sized enterprises and 50,000 employees. Its selling point will be the homey atmosphere and support services befitting of a Little Japan. Specifically, it will not only model its production infrastructure, but also its lifestyle infrastructure, after that of Japan. Furthermore, it will have a Japanese director stationed on the premises and handle company start-up, accounting and legal procedures, as well as carry out recruitment and file tax reports on behalf of the companies there. Since it is solely for the use of Japanese companies, Japanese employees posted there will not only find it easy to exchange business information but will also be able to help each other in everyday life.
Plainvim International has plenty of experience working with such Japanese firms as TDK Corp. and Matsushita Electronic Components Co. through joint ventures and business tie-ups. It is ready to provide personnel support, such as dispatching managers, for incoming Japanese firms, as well as to serve as a partner for joint ventures and OEM. Not only can the firm serves a good guide for small businesses that are entering the Chinese market for the first time, it can also be a trusted business partner. With the addition of the direct support of the town government, investment risks can be reduced.
As this shows, regional competition for foreign investment has resulted in a dramatic improvement in the investment atmosphere in China as a whole. This will no doubt increase the options open to Japanese firms when they invest in China and improve the chances of their success.
*My inspection tour received the cooperation of JL Advisers.
Article(s) by this author