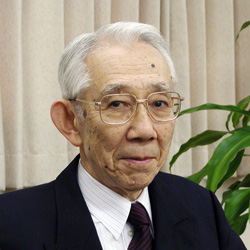 Dr. Ryutaro Komiya, the first director of the Ministry of International Trade and Industry Research Institute (MITI/RI), the predecessor of the Research Institute of Economy, Trade and Industry (RIETI), and a special advisor to RIETI, passed away on October 31, at the age of 93. We would like to express our deepest condolences on the passing of Dr. Ryutaro Komiya and pray that his soul rest in peace.
Dr. Komiya has made significant contributions to both the development of economics and economic policy through his numerous outstanding research achievements, including theoretical and empirical analysis of international economics and postwar Japan's rapid economic growth, as well as precise recommendations based on a theoretical framework for actual economic policy.
At MITI/RI, where he served as director for 10 years, while supervising researchers, he published numerous papers and books on Japan-U.S. trade friction, international economic relations, and industrial policy, attracting a great deal of public attention. Thereafter, he served as a special advisor to RIETI until 2015, providing advice and guidance on research activities from a broad perspective.
RIETI will repay Dr. Komiya's kindness by contributing to policy formation based on theoretical frameworks and empirical evidence.
November 2022
Research Institute of Economy, Trade and Industry
Makoto Yano, Chairman of the Board
Director: Masayuki Morikawa