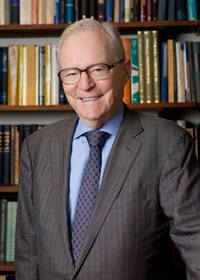 The Research Institute of Economy, Trade and Industry (RIETI) is deeply saddened by the passing of Harvard University Professor Dale Jorgenson, who passed away at the age of 89.
Dr. Jorgenson supported RIETI in various ways since its establishment, as a member of the External Advisory Board for 10 years from 2011 to 2021, and then as an Honorary Research Advisor, providing advice from a broad perspective on RIETI's research and international activities.
He was a frequent speaker at RIETI's international symposia and seminars, including the World KLEMS Conference, where he provided excellent research results and insightful policy suggestions. Most recently, Dr. Jorgenson spoke at RIETI's international webinar in 2020 on how the world should face COVID-19 and provided a congratulatory message on the occasion of RIETI's 20th anniversary in 2021.
We will continue to develop RIETI's contribution to the world, which Dr. Jorgenson led us to, in order to repay his kindness.
Research Institute of Economy, Trade and Industry
Chairman Makoto Yano
President Masayuki Morikawa