Professor Masahiko Aoki, who served as the first president of the Research Institute of Economy, Trade and Industry (RIETI), passed away on July 15, 2015 at the age of 77. We would like to express our heartfelt sorrow and offer our sincere prayers for the reposition of his soul.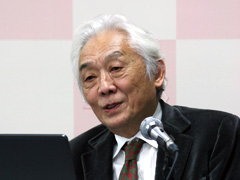 Professor Aoki was a leading Japanese economist who pioneered a new research domain known as comparative institutional analysis. He conducted theoretical research on the Japanese economic system, corporate governance, and other topics. His accomplishments have given tremendous impacts on actual policy formation including the reforms into various institutions related to businesses. They also have offered implications on issues that the Japanese economy is currently facing.
Professor Aoki became president of the Ministry of International Trade and Industry / Research Institute (MITI/RI), which is the predecessor of RIETI, in 1997. Upon the establishment of RIETI in 2001, he served as the first president until 2004, building the foundation of our organization.
We at RIETI will return Professor Aoki's favor by further developing the foundation that he created and contributing to policy formation based on theoretical framework and empirical evidence.
Research Institute of Economy, Trade and Industry
Chairman Atsushi Nakajima
President Masahisa Fujita