This Non Technical Summary does not constitute part of the above-captioned Discussion Paper but has been prepared for the purpose of providing a bold outline of the paper, based on findings from the analysis for the paper and focusing primarily on their implications for policy. For details of the analysis, read the captioned Discussion Paper. Views expressed in this Non Technical Summary are solely those of the individual author(s), and do not necessarily represent the views of the Research Institute of Economy, Trade and Industry (RIETI).
International Trade and Investment (FY2011-FY2015)
Comprehensive Research on the Current International Trade/Investment System (pt.II)
The removal of potential market distortions caused by government subsidies, cheap loans, and preferential regulatory treatment to its state-owned enterprises (SOEs) has been the focus of discussions at Trans-Pacific Partnership (TPP) meetings. On one hand, the subsidies endanger the level playing field over all business sectors for TPP members. On the other hand, subsidies are relatively useful to help SOEs reach certain social goals that are not automatically realized in a free-market context. Particularly, Vietnam is the least-developed non-market economy negotiating country and has insufficient transparency in administrative governance. Thus, it is believed that Vietnamese SOEs and their government subsidies cause adverse effects for other TPP partners. Therefore, Vietnam has been strictly requested to implement SOE reforms to enhance the transparency and effectiveness of corporate governance. In turn, the reforms have made implementation by the Vietnamese government difficult. This paper (1) examines the principles of SOE management in the TPP negotiation; (2) analyzes the equitization of SOEs in Vietnam in the light of non-discrimination and on a commercial basis; and (3) evaluates the potential costs and benefits of Vietnam's non-market-economy status in the TPP negotiations.
In Vietnam, SOE reforms are characterized as SOE equitization, in which equitization does not imply privatization. Equitization helps diversify the true owners of SOEs, including domestic and foreign shareholders, employees, or the State. Equitization does not imply a transfer of SOE assets to one particular private entity. SOE equitization first commenced in 1992, and its regulations have changed significantly. SOE equitization is now more transparent, and SOE asset evaluation and land-use rights are conducted on a commercial basis. During the last 25 years, the number of SOEs in Vietnam has significantly decreased--from nearly 7,000 in 1995 to slightly more than 1,000 in 2010.
Number of 100% State-Owned Enterprises in Vietnam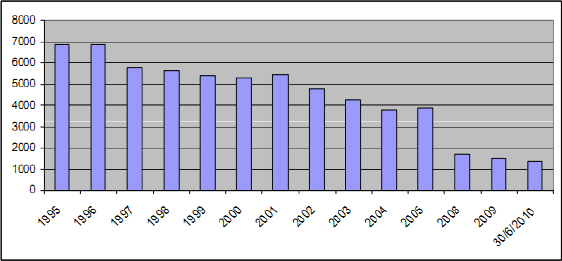 In February 2014, in the SOE Restructuring Meeting, the Vietnamese government confirmed that it is equitizing 542 SOEs by December 31, 2015. This rapid equitization is consistent with the aggressive economic development policies of the TPP negotiations. In practice, many large SOEs have been equitized effectively, such as Vinaconex, Vietcombank, and Vietnam Airlines, but with limited investors and low competitiveness of SOE shares, the sale of shares is challenging.