Research Programs
The growth of Japan's economy is inseparable from changes in the global economy. This program, focusing on the relationship between the globalization of firms (i.e., exports and overseas production) and growth of the Japanese economy, will study R&D and innovation of globalizing firms, international technology transfer, employment, and industrial clusters from theoretical and empirical perspectives, together with studying international trade and investment rules (i.e., the WTO and regional trade agreements) empirically and from both legal and institutional perspectives. Furthermore, it also will study the impacts on firms and industries of the external shock of the Great East Japan Earthquake, changes in production networks and the structure of trade following recovery, and the effects of restrictive energy and material supply on structural changes in the Japanese economy.
Amid rapidly advancing globalization, there is a need to consider how the Japanese economy should take on growth in emerging markets and realize balanced, sustainable growth within Asia. In addition to studying institutional infrastructures such as the role of a currency basket in the Asia region, this program also will analyze various issues related to exchange-rate pass-through and the choice of invoice currencies from both macroeconomic and corporate-level perspectives. Furthermore, it also will advance research spanning fields such as international trade and macroeconomics, international finance, macro finance, corporate foreign-exchange risk management, and corporate finance. We will endeavor to propose ideal macroeconomic policies for fiscal reconstruction, particularly their influence on exchange rates, as well as analyze the long-term deflationary mechanism and explore ways of overcoming it.
This program will study urban, rural, and industrial growth viewing the regions of Japan in the context of the global economy, and using this to develop policy recommendations and other outputs. Specifically, it will analyze, both theoretically and empirically, matters such as formation of domestic and international regional systems through market mechanisms, the mechanisms of enterprise clustering, and the relationship between economic growth and urbanization, considering regional policies that would be desirable from the perspectives of national economic growth and maximizing policy effects, and also researching the optimal sizes of regional blocs and communities. Additional study will look at the ideal forms of the supply chains of Japanese firms and the recovery of areas affected by the Great East Japan Earthquake. Furthermore, the ideal management strategies for outstanding small and medium-sized enterprises utilizing regional resources and other advantages will be studied as well.
The sources of innovation are the creation of new knowledge and its exploitation to solve real-world problems. This program will develop original data on innovation process with a view toward improving our understanding of such processes, including the surveys of inventors in Japan, North America, and Europe, and will conduct analysis from a global perspective so as to contribute to evidence-based policy formation conducive to technology development and innovation. Specifically, the program will analyze a broad range of issues, such as an assessment of intellectual property systems such as patent systems, knowledge transfer and mobility of people across organizations, university-industry cooperation, technical standards for innovation, collaboration in innovation, corporate organization and industrial organization to promote innovation, and international comparison of entrepreneurship.
The aim of the program titled Raising Industrial and Firm Productivity is to measure industry- and firm-level productivity and its determinants for Japan and various East Asian countries and to conduct research on policies aimed at raising productivity. At the industry level, the program--in addition to updating and expanding the Japan Industrial Productivity (JIP) and China Industrial Productivity (CIP) databases in collaboration with Hitotsubashi University--will construct an industrial productivity database by prefecture for Japan and examine the impact of the recent earthquake on regional economies and policies for reconstruction. At the firm or establishment level, employing micro-data from government statistics and corporate financial data in Japan and abroad, the program will research the following: productivity differentials between firms, the impact of globalization, how changes in demand affect corporate performance, policies for raising productivity in the service sector, and productivity dynamics from an international perspective--including productivity differentials between Japanese, Chinese, and Korean firms--as well as other related issues.
At the industry and firm level, the program will measure investment in intangible assets such as research and development, software, in-house training, organizational structure--all of which are important sources of innovation and productivity growth--and will examine the economic effects of such investments.
Leading nations appear to have ventured into the formulation of strategies and policies that promote both their own domestic industries and companies in the global markets. This program will conduct research on formulating industrial policies in the aftermath of the Great East Japan earthquake with a view toward resolving issues being faced by the Japanese economy. It will take into consideration the roles played by product innovations, while also looking into the perspectives of, for example, environmental, energy, and resource policies, competition policy, as well as agricultural policy.
Amid the rapid aging of its society, intensifying global competition, and recovery from the Great East Japan Earthquake, utilizing its human resources is a significant key to Japan maintaining and strengthening its economic dynamism and increasing its growth potential, as a nation relatively lacking in natural resources. This program will carry out multifaceted, comprehensive research on measures for strengthening human capital and human resource capabilities, from a full life-cycle perspective including ideal labor market systems to increase worker incentive and ability, early childhood education through higher education, human-resources development in employment years, and utilization of elderly human resources.
Japan has to maintain its economic dynamism in the face of its rapid aging population and low fertility rate. This program will carry out multifaceted, integrated research on Japan's social security system, taxation, and public finance. The research subjects include (1) an analysis of comprehensive panel data on the elderly, (2) possible reforms to the social security and taxation systems, (3) a proposal for combining carbon taxes and investment subsidies in energy conservation, (4) optimal fiscal policy measures for reconstruction from the recent earthquake, economic recovery, and fiscal consolidation, and (5) new forms of public services, including the "third sector."
The objective of this program's research is to review and assess trade and industrial policy chiefly over the period from 1980 through 2000, as it looks at Japan's economy, society, and trade and industrial policies at the end of the 20th century.
At the same time the final two decades of the 20th century were a time of significant changes in Japan's economy and society, they also were a time of very major real and organizational changes in trade and industrial policy. This research will attempt to make clear how changes in trade and industrial policy at the turn of the century were effected, based on activities including assessment of the recognition of policy issues over the preceding quarter-century, choice of policy means in response, and their results.
Research Framework for RIETI's Third Medium-term Plan
Under the third medium-term plan (fiscal 2011 to fiscal 2015), RIETI makes it its mission to undertake theoretical and empirical research to create a grand design for putting the Japanese economy on a growth path and solidifying sustainable growth in the future. To this end, we will proceed with research activity by always keeping in mind the following three Priority Viewpoints on economic and industrial policies (see the figure below). Based on the three Priority Viewpoints, nine Research Programs have been established. With each Research Program representing a set of interrelated policies, altogether they will cover a broad range of policy areas. Several Research Projects are to be conducted under these nine Research Programs. In addition, there are also Special Projects that extends beyond these programs. Depending on the progress we are able to make in the nine Research Programs or the potential necessity to explore new research areas due to changing economic conditions, we will either alter or add to our current research programs as needed.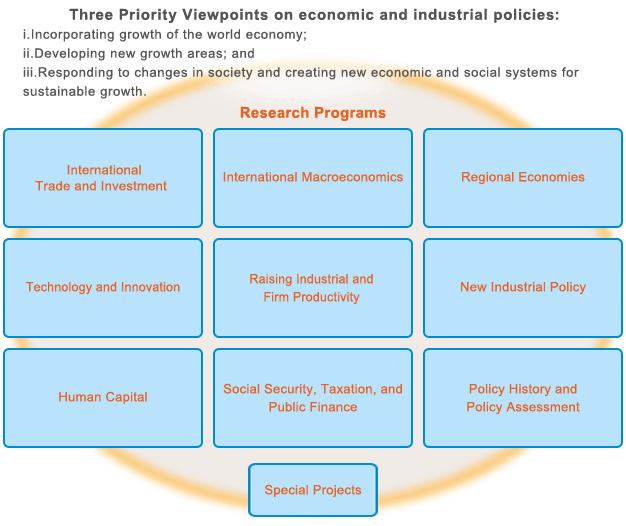 Research Process
To further improve on the quality of research, RIETI ensures that at least three discussion fora are organized for each research project through workshops and symposia, where Japanese and foreign experts and policymakers participate to deepen the research.