Information
Time and Date: 11:00am-12:30pm (Japan Standard Time), Thursday, October 7, 2021
Hosts: Research Institute of Economy, Trade and Industry (RIETI) / ISEAS-Yusof Ishak Institute
Summary
In this webinar, Dr Ryan Wong from the ISEAS – Yusof Ishak Institute, Mr Takeshi Soda from the Ministry of Economy, Trade and Industry (METI), Japan, Ms Moekti Handajani Soejachmoen (Kuki Soejachmoen) from the Indonesia Research Institute for Decarbonization (IRID) and Mr Hirokazu Kobayashi from the Research Institute of Economy, Trade and Industry (RIETI) discuss Japan's plans in supporting the energy transition and decarbonization in Southeast Asia.
CLIMATE CHANGE IN SOUTHEAST ASIA PROGRAMME WEBINAR
Thursday, 7 October 2021 – Dr Ryan Wong, Lead Researcher at the Climate Change in Southeast Asia Programme in ISEAS, Mr Takeshi Soda, Director of International Affairs and the Agency for Natural Resources and Energy (ANRE) at METI, Ms Kuki Soejachmoen, Executive Director of IRID and Mr Hirokazu Kobayashi, Consulting Fellow at RIETI, spoke on how the Asia Energy Transition Initiative (AETI) spearheaded by Japan can support Southeast Asian countries in developing realistic and ambitious roadmaps for decarbonization. The session was moderated by Ms. Sharon Seah, Senior Fellow and Coordinator of the Climate Change in Southeast Asia Programme and ASEAN Studies Centre at ISEAS.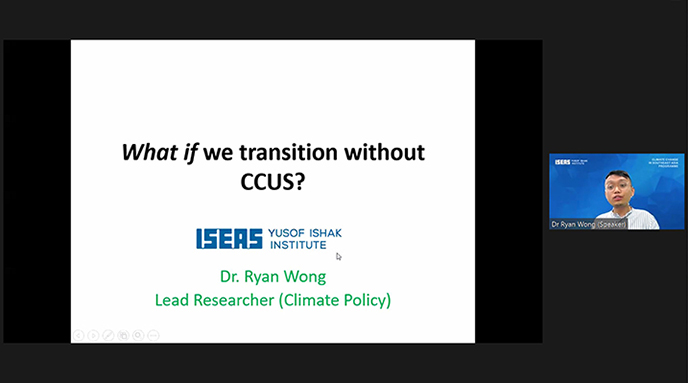 In his presentation, Dr Ryan Wong acknowledged Japan's role as a climate leader in the region, which is indicated by the results of the Southeast Asia Climate Outlook 2021 Survey, wherein Japan was the second most popular climate action partner identified by Southeast Asians, after the European Union (EU). He welcomed Japan's move to ban overseas investment in new coal and shift towards funding energy transition technologies, but cautioned against the uncertainty associated with Carbon Capture, Utilisation and Storage (CCUS) technologies in terms of effectiveness and scaleability. To overcome this, he suggested that reporting of direct emissions reductions and negative emissions from CCUS should be independently carried out. He also encouraged more analyses on cost effectiveness of CCUS projects in Southeast Asian countries.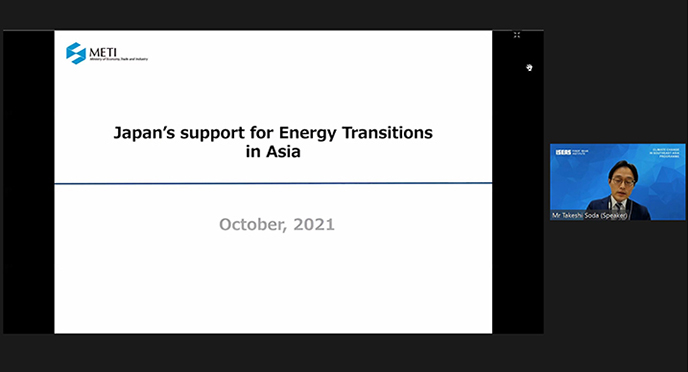 Mr Takeshi Soda elaborated on the AETI led by Japan in support of its goal to reach net-zero emissions by 2050. AETI aims to accommodate the challenges of growing energy demand, reliance on fossil fuels and unevenly distributed renewable potential by encouraging Asian countries to target carbon neutrality and draw up their own roadmaps for energy transition. The planning and implementation of these roadmaps will be supported by Japan and the Economic Research Institute for ASEAN and East Asia (ERIA) through transition finance and consultation. This allows for flexibility in each country to plan for climate action realistically and according to its own circumstances – which was reiterated at the Asia Green Growth Partnership Ministerial Meeting on 4 October. Supporting projects include the Asia CCUS Network and the Asia Transition Finance Study Group.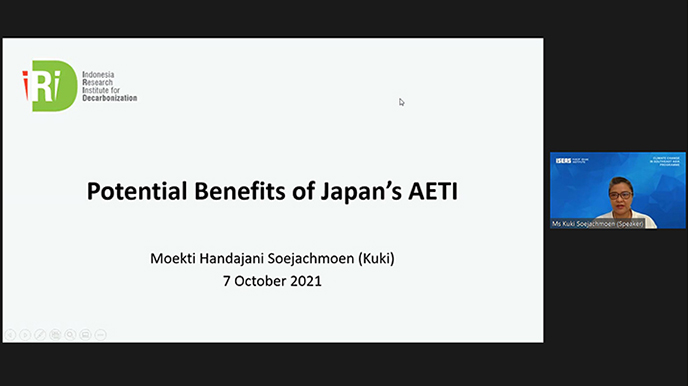 Ms Kuki Soejachmoen explained that in order to align with Paris goals, Southeast Asian countries must reduce coal power consumption to 5-10% by 2030 and completely phase it out by 2040, while renewables must reach a 100% share in power generation by 2050. The challenges faced by renewables can be faced by both demand and supply-side adjustments: supply can be enhanced through use of storage technology, while demand can be reduced through energy efficiency. She stressed that roadmaps developed with AETI should aim for socially just energy transitions that prioritise human welfare, and ensure that human resources are attended to as much as technological and financial resources.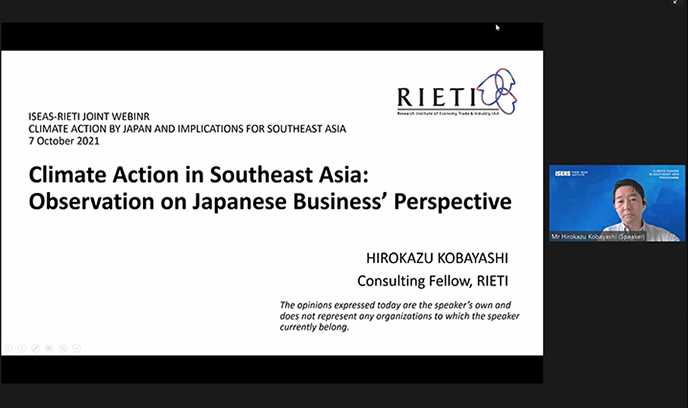 Mr Hirokazu Kobayashi brought up the perspectives of Japanese companies in Southeast Asia. He explained that Japanese companies are increasingly interested in climate action and the Sustainable Development Goals. Southeast Asia has fewer opportunities compared to developed countries with deeper stronger commitments and economic support for private sector climate action, but Japanese companies remain committed to Southeast Asia due to the established Japanese business community here. There are many opportunities for the region to build mutually beneficial relationships with them, such as building a hydrogen network. To collaborate with the private sector on climate action, it would be helpful for regional governments to provide clarity and predictability through strong commitments and reliable action plans. During the Q&A session, the panellists addressed questions relating to carbon credit mechanisms, green taxonomy and energy poverty. The webinar drew over 120 participants.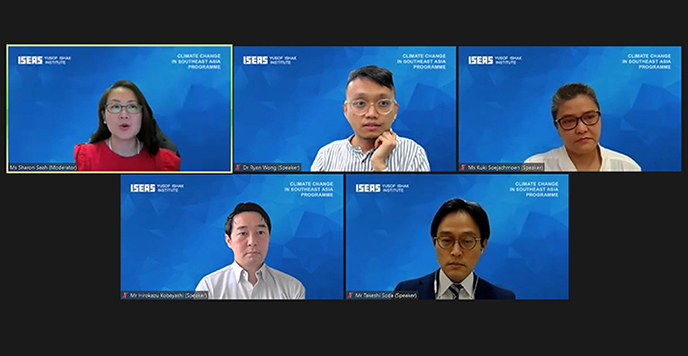 This article was first published by ISEAS – Yusof Ishak Institute.
https://www.iseas.edu.sg/media/event-highlights/webinar-on-climate-action-by-japan-and-implications-for-southeast-asia/