Summary Report
A conference under the title "Changes in the Corporate Management Environment and Safety Nets" was held at the Research Institute of Economy, Trade and Industry on Nov. 19, 2002.
The aim of this conference was to hold discussions among people with great interest and knowledge in this field based on findings of academic research, rather than to propagate information and enlighten a general audience. As a result, we saw the attendance of many people with very good insight on the topic, including top experts in the field.
The morning session covered the topic of child care support. We heard presentations on such points as what sort of effect the inability to develop one's career during child-rearing has on how women find work, what effect child care leave has on the female labor supply, and, contrarily, what sort of impact such support measures have on corporate hiring strategies concerning women. This was followed by very interesting comments from RIETI faculty fellow HIGUCHI Yoshio and TAKEISHI Emiko of NLI Research Institute, such as the suggestion that support measures other than child care leave will likely have to be considered in the future, as well as good advice regarding the procedure used in analyzing these issues.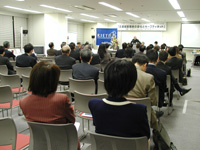 The session on retirement pay and corporate pensions included presentations on such issues as the need to review the significance of defined contribution pension schemes in light of the changes in the management environment surrounding companies and the labor market. Speakers suggested that utility would not be diminished even if the defined benefit pension system is fully replaced with a defined contribution system, and that the corporate governance role played by institutional investors, which is regarded as an important factor in the management of pensions, is not functioning properly in Japan.
In response, ASANO Yukihiro of Yokohama National University noted that the defined contribution system was a heavy burden on individuals and was risky, while USUKI Masaharu of NLI Research Institute commented that in addition to defined contribution pensions, the introduction of a lump-sum payment system could be one option when dealing with changes in the labor market. He added that the measurability of utility can greatly differ depending on parameters, and on the issue of governance, he said that intervention in corporate management is necessary to help ensure that a company's management observes rules.
During the general session, there were presentations saying that companies can withdraw from welfare, while on the other hand, it was also suggested that enterprise social welfare agencies could be better utilized by strengthening their function as insurers through regulatory reforms.
In response, TAKANASHI Shozo of Japan Business Federation (Nippon Keidanren) explained the position of the federation that the level of welfare in Japan is not low, that there is room for further streamlining and that it was important for insurer functions to be galvanized. Meanwhile, KOJIMA Shigeru of Japan Trade Union Confederation said that Japan's welfare level is not necessarily high, that the current level of pension payments should be maintained and that the corporate sector should also be responsible for social security.
In closing, RIETI President AOKI Masahiko summed up the symposium by saying that the issue of how to construct safety nets when the entire social system is undergoing change is a very important issue, and that there will be situations where the state will be called in to intervene to correct unfairness in the system.
The themes discussed during the day's meeting were very wide-ranging, covering the issues of child care, the pension system and how companies should be involved in providing welfare. It was a shame that there was not enough time to fully explore all these topics, but it was a meaningful conference in that we were able to bring some important points regarding safety nets into sharp focus.
We are planning to further develop the discussions of this conference and then put them into publication form as the result of the two years of work of this study group.