Outline Report
PANEL DISCUSSION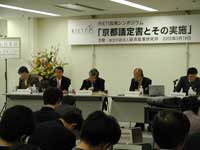 In a panel discussion on China, the second largest emitter of carbon dioxide (CO2), Hu Angang, Professor of Tsinghua University, explained how China has managed to put CO2 emissions under control while maintaining high economic growth during the past five years.
During the last five-year plan period from 1995 to 1999, China's gross domestic product rose average 8.3 percent per year, lower than 12.0 percent in the previous five-year period, but growth in revenue went up from 3.4 percent to 14.7 percent, Hu said.
In the meantime, he said, energy production growth dropped from 4.4 percent annual growth in the 1990-94 to 3.3 percent negative growth in the 1995-99 period, coal production from 4.27 percent to negative 6.0 percent, energy consumption from 5.9 percent to negative 0.5 percent.
"Energy efficiency has improved and coal consumption has declined. Because of this, CO2 emissions were much less than projected in the early 1990s," he said.
Hu said China's achievement of the high GDP growth, lower energy consumption and better CO2 emissions control is attributable to the "changing growth pattern" from quantity-based, factory-intensive growth to quality-based, technology-and-knowledge-based growth during the past five years.
For this, he said, the government played a leading role, initiating a major policy shift from pursuing GDP growth to linking economic growth with environmental protection.
"The leaders have a strong political will to restructure... and control CO2," he said, citing the government's ambitious goals of bringing CO2 emissions down to the 1995 level by 2010, curtailing several kinds of pollutants by 5 to 10 percent, and spending 1.3 percent of GDP on environmental protection in the next five years, up from 0.93 percent in the past five years.
In achieving such goals, Hu said, China will utilize market mechanism, which he said has played an important role in a shift from planned economy to market economy but also in turning the energy-intensive economic structure into the one with higher energy efficiency.
Summing up the government's overall energy strategy, he said, China will continue to promote energy restructuring - reducing coal consumption and shifting to less harmful energy sources such as oil and natural gas - and utilize global technology for energy saving and environmental protection.
To better utilize market mechanism, China will be placing zero custom for oil and gas imports, breaking the state monopoly of oil imports, and imposing lower or zero tariffs on environment technologies and equipments, he said.
Meanwhile, stressing the need to have greater international cooperation, Hu suggested that the Chinese government initiate CO2 emissions trading and seek more assistance from overseas, including technology transfer from Japan.
"China (would like) to participate in more international cooperation on CO2 reduction to accelerate emission abatement," he said. "China as the No.2 (CO2 emitter in the world)... has a very strong political will to reduce CO2. The last five years gave us confidence to do it. So, the next five years, I hope, will give more and more good news for our people and the world."
Responding to Hu's presentation, RIETI Chairman Sozaburo Okamatsu stressed the need of developing countries' participation in climate change abatement efforts.
"The Kyoto Protocol impose greenhouse gas emission reduction only on developed countries. But developed countries alone cannot achieve the goal of protecting global atmosphere," he said, noting that in 2100 greenhouse gas emissions from developing countries alone will reach the level twice the global total in 1990 based on business-as-usual estimate.
"Given the expected population increase and improvement in living standards, controlling greenhouse gas emissions in developing countries will be far more difficult than in developed countries," Okamatsu said. "Also there will be a very strong political resistance."
In this regard, he pointed to the importance of Clean Development Mechanism (CDM) which would allow developed countries to reduce CO2 emissions at lower costs and developing countries to receive support for adopting advanced energy-saving and other environmental technologies.
"In China, further economic development must be accompanied by environmental policies. In promoting a shift to environment-friendly development, CDM will be playing an important role," he said.
Meanwhile, he said, a 6 percent reduction target for Japan under the Kyoto Protocol would translate into a 0.03 percent cut in global greenhouse gas emissions, making a close-to-zero impact. If Japan is to achieve this only with domestic measures, however, it would push down GDP by 1 percent, which he said is a fairly big figure for the country suffering negative growth and trying to achieve 3 percent growth in a long term.
However, if Japan and other developed countries utilize their advanced environmental technology to reduce CO2 and other greenhouse gas emissions in developing countries through CDM, both developed and developing countries benefit, Okamatsu said.
"CDM is a plus-sum, or win-win game that can contribute to global environmental policy. I believe that this perception should be shared by many countries and that developed and developing countries should cooperate based on this shared view," he said.
Katsuhiko Kotani, General Manager for Environmental Affairs at Japan Iron and Steel Federation, pointed to similarities between today's China and Japan in the 1950s and 1960s.
"During its high growth period, Japan's crude steel production went up and pollution problems began to emerge," he said. "China's GDP per capita is now at $900 and Japan's GDP was about that level when we began to have pollution problems. With China's steel production expected to grow further, China will likely face the same problem we faced in Japan."
Kotani said that the Chinese steel industry has achieved relatively high productivity but yet to adopt waste heat recovery technologies such as cokes dry cleansing, top pressure recovery turbine and off-gas recovery, thus leaving ample room for improving energy efficiency.
Given the reality that environment-related projects are economically inviable, however, private-sector investment will unlikely take place, Kotani said.
"Japan has sophisticated environmental technology that can play a substantial role in helping China achieve balanced development and it is important to enable quick transfer of technology and realize it in the form of CDM projects," he said.
In this regard, Kotani urged the Japanese government to establish a new type of official development assistance that can be incorporated into CDM projects. He also said that the Japanese and Chinese governments start negotiation toward creating a framework for realizing CDM.
Morihiro Kurushima, Director-General for policy planning at New Energy and Industrial Technology Development Organization, introduced a series of basic survey projects for Joint Implementation initiated by Japanese companies and supported by NEDO (New Energy and Industrial Technology Development Organization).
Of those, he cited two particular projects - introduction of energy-saving trolley buses in Mexico undertaken by Mitsubishi Electric Corp. and traffic jam abatement in Thailand by the Japan Automobile Manufacturers Association - as successful examples.
In the Mexico project in 1997, for instance, Mitsubishi Electric Corp. obtained an export opportunity and then Export-Import Bank (now Japan Bank for International Cooperation) a financing opportunity, while the Mexican government managed to implement sophisticated energy-saving facility, he said. Although NEDO did not earn any emissions rights as the CDM scheme is still in the experimental stage, he said, the outcome of the project indicates that the CDM can work as a win-win game, as pointed out by Okamatsu.
Teruaki Masumoto, Chairman of Subcommittee on Global Environment, Japan Federation of Economic Organizations (Keidanren), expressed appreciation of China's remarkable energy performance in the past five years and called for continuous efforts.
Maintaining the favorable trend, however, will be an extremely difficult task, he said, as China proceeds on the ongoing urbanization, which may result in the aggravation of the global warming.
Tokyo, for instance, has the so-called heat island phenomenon, a bad energy cycle in which use of air conditioners in summer time results in heating of air leading to further use of air conditioners, Masumoto said.
"As China and any other countries with rapid pace of urbanization... still have a chance to avoid repeating mistakes we made 20 and 30 years ago in managing energy consumption and environment," he said. "I would like to ask (the government of those countries) to consider urban planning in a way to achieve high energy efficiency, designing housings, buildings, cityscapes, roads and traffic systems in environment-friendly manners."
In linking such urbanization projects to CDM, Masumoto said it is necessary to establish efficient evaluation system to measure the effect of projects in improving energy efficiency.
Meanwhile, he raised concerns over Japan's ODA as it stand today.
"Japan has been providing massive amount of ODA. But I'm afraid this may be a match pomp... encouraging development that results in greater greenhouse gas emissions. Then, we pump in more money to help clear up self-created problems," he said. "In this regard, I would like to ask the government reconsider ways of providing ODA so that it can be utilized in a more positive manner."
WORKSHOP I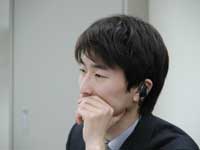 In the first session of the subsequent workshop, Takao Kusakawa, Graduate Research Associate at RIETI, and Toru Okawara, a researcher at Central Research Institute of Electric Power Industry, presented their research results concerning emission rights trade.
The purpose of the experiments is to help design the mechanism of emission rights trade with which obligations under the Kyoto Protocol will be achieved in the most cost-efficient way.
Kusakawa's research, conducted jointly with RIETI and Osaka University Professor Tatsuyoshi Saijo, conducted nearly 60 sessions of experimental emissions trading among countries under different rules and conditions, i.e. bilateral trading versus double auctions, seller's liability versus buyer's liability, and first priority to fulfilling obligations under the Kyoto Protocol (Kyoto First) versus those under individual contracts with trading partners (Country First).
Okawara, meanwhile, conducted two sessions of experimental emissions and wholesale electricity trading among nine virtual electric companies, similar to Japan's nine major utilities.
Both the two sessions were carried out under the same conditions that each session ends in 2012 and those failing to fulfill obligations on their own must either pay penalty or buy emissions permits from other players in the grace period following the end of the session.
For further details and research results, please refer to their respective research paper.
WORKSHOP II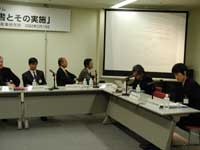 The second session of the workshop focused on what kind of mechanism should be put in place beyond the Kyoto Protocol.
Hiroshi Saito, Visiting Senior Fellow at RIETI and organizer of the symposium, pointed to three key factors in designing a new global warming prevention regime; involvement of developing countries and the United States, sustainability of the system itself as well as of economic development, and flexibility that would allow greater participation and sustainability.
"The Kyoto Protocol, as a result of giving greater priority to sustainability, exempted developing countries from binding obligations in emissions reduction and set differing reduction targets for developed countries, leaving specific measures to each country's discretion," he said. "Any inconsistencies arising from such a mechanism are to be solved by a flexibility mechanism called Kyoto Mechanism."
The key issue in designing future steps is how to expand involvement, which has been intentionally left "extremely inefficient" under the "deep-then-broad" approach of the Kyoto Protocol, Saito said.
This generates needs for more harmonized actions, effective equality in burden sharing, and a flexibility mechanism with greater financing functions, he said.
Bohm, meanwhile, proposed a series of ways to improve the cost-effectiveness of international emissions trading.
While playing down risks arising from the presence of a monopolist or a monopsonist, he called for early participation of developing countries in international emissions trading by designing the system more favorable to them.
As a way to accelerate developing countries' full participation in emissions trading, he said, CDM - though necessary for the time being - should be phased out as early as possible.
"The main problem with the clean development mechanism is that there are incentives to have false reporting of what the actual emission reductions are," he said. "The host party and the investor party have an interest in common to try to exaggerate the emissions baselines."
As other means to improve cost-effectiveness, Bohm called for removing trade constraints - currently set in place in the form of the commitment period reserve - and allowing the borrowing of future emission permits to some extent.
Akinobu Yasumoto, advisor at Global Industrial and Social Progress Research Institute, said the most serious problem with the Kyoto Protocol is its failure to set any criteria for domestic policy measures to achieve reduction targets.
"It sounds nice when you say it is entirely left to individual countries' initiatives. But I'm afraid that this may be inducing moral hazard and posing problems in efficiency and compliance," he said.
Measures such as carbon tax and CDM, which do not promise any specific volume of emission reduction, are not in conformity with the spirit of the Kyoto Protocol that mandates specific reduction targets, he said.
To ensure efficiency and compliance, Yasumoto said, both developed and developing countries should be allocated emission permits and absolute volume of emissions should be traded.
He also said upstream approach in monitoring, such as prohibiting imports of fossil fuels without emission permits, would enable real-time check of compliance conditions and save costs.
During the subsequent discussion, Toman agreed to the points Bohm made concerning the need to eliminate CDM, acknowledging a series of shortcomings of the mechanism.
Nevertheless, Toman said he still finds CDM a necessary tool to enable large transfers from the North to South.
"If these transfers need to be large to expand (developing countries) participation but they are politically visible and politically painful... we may be stuck with the clean development mechanism for a while even though it is clearly less efficient... and in some ways it is even less honest," he said. "It may be the only way we are going to succeed in broadening participation and in promoting sustainable development in an imperfect world where linked transfers may be a requirement both politically and operationally."
Voicing his agreement with Toman's view, Masumoto said that all possible options, including CDM despite its deficiency, should be used at this stage, rather than excluding certain options.
Likewise, pointing to political difficulties concerning the participation issue, Okamatsu said that CDM should be credited for having managed to get developing countries engaged in the process.
"The current system is a product of international political compromise. But I believe this is the right choice at this point of time," he said.
Bohm said developing countries are reluctant to join international emissions trading because they want industrialized countries, who caused the problem, to be punished first.
Calling such an argument "very counterproductive," he said, "It is as if we were not all in the same boat. So why, if we agree we are actually here altogether, should we not make the best of the situation?"
Asked about the possibility of the U.S. rejoining the Kyoto process, Goulder gave rather pessimistic prospect, noting that the current administration has strong political support from the oil and other energy industries and that the American public has not engaged in the issue to the extent of demanding stronger sacrifice.
"We will see increasing commitments on the part of the U.S. over the next decade in any event. What I cannot answer... is what that means in terms of the coordination of U.S. efforts with the efforts under Kyoto," he said.

Toman said he is far more cynical than Goulder, referring to his frustration working within the previous administration of President Bill Clinton, which he said was supposed to be the "environmental leadership for the world."
"You had in 1997 the willingness of Vice President (Albert Gore) to fly here to Japan and break the logjam in Kyoto, but only for targets that would come into force after he left office in 2008," he said. "Whether you look at the Democrats or the Republicans in U.S. climate policy, you cannot find a lot of reason for optimism... Until the American public believes that climate change is a serious concern, serious enough to warrant higher energy prices, we are not going to have much progress."
(Report : NASHIMA Mitsuko, RIETI)